Social Security Scotland Newsletter
19th February 2021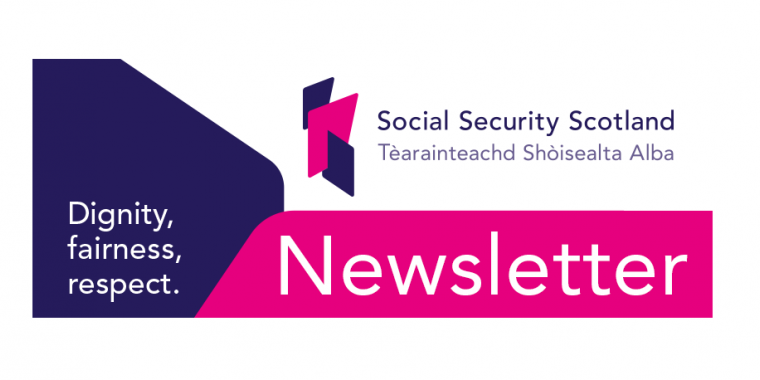 Scottish Child Payment has started
This new benefit is unique to Scotland and will give eligible parents and carers £40 every four weeks for every child under six they look after.

Since the benefit opened early for applications in November 2020, we have received more than 77,000 applications.

We are doing final eligibility checks on applications already received and we are starting to issue decision letters to applicants.

The first decision and payments for those who are eligible will arrive from later this month. We are working to ensure that everyone who applied before Monday 15 February will get a decision and, if eligible, their first payment by no later than the end of April.

We would like to reassure families that applied early for the payment, if their application is successful, their payment will be backdated to 15 February 2021. People who apply from Tuesday 16 February onwards will have their payment calculated from the day that they apply.

We appreciate your continued support and the sharing of this information to help minimise the amount of clients contacting us for updates on their application – people should not be concerned if someone they know receives a decision before them.

When we get high volumes of people calling to check, it means we have to move colleagues away from processing applications and payments to take the calls and this can impact how long it will take to get decisions and payments to eligible families.

Clients who included their mobile number on their application will receive a text every two weeks to update them on the status of their application until they receive their decision letter.

As with all of our benefits, we have a range of stakeholder resources available to help you raise awareness of the Scottish Child Payment and we have created some materials to help manage clients expectations through this initial busy period, which we would be grateful if you could share as appropriate.

We would like to thank you all for your support in raising awareness of Scottish Child Payment to the parents and carers you support across your organisation. It is great that so many people have already applied but there are many families that we still need to reach. Please continue to promote Scottish Child Payment to help us make sure that everyone who is entitled to this money knows about it and knows how they can apply.
Independent Advocacy Service

We know that some people, especially those with a disability, may have issues in accessing our services and applying for the support they are entitled to.

To assist our clients and make the application process for our benefits as easy as possible, we have an Independent Advocacy Service.

This free service is open to anyone who requires support to apply for our benefits and it will ensure that clients are fully involved in the application process. The service will also enable clients to have their voice heard, express their views and ensure they are fully understood.

A client can request an independent advocate at any time during their interaction with us – from the initial application stage, to redetermination and appeal.

Due to the ongoing Covid-19 measures, we offer this service over the phone or via a video call at present.

If you are aware of anyone who might benefit from the use of an advocate, then they should call us on 0800 182 2222 and ask to be referred to the Independent Advocacy Service. A representative will then contact them within five working days.

Read more about our Independent Advocacy Service

Parents encouraged to apply for School Age Payment before deadline

Eligible families across Scotland are being encouraged to apply for the Best Start Grant School Age Payment before applications close on 28 February.

The one-off £250 payment can be used to buy anything from a warm coat to books and toys. Applications are open to families that have a child that was born between 1 March 2015 and 29 February 2016.

Parents who have deferred their child's entry to school from August 2020 to August 2021, or those who are home schooling, may still be eligible for this payment and should still apply before the closing date.

The payment is part of the Best Start Grant, a package of three payments to support families who get tax credits or certain benefits – including Universal Credit, Income Support and Housing Benefit.

You can find social media posts, client flyers and translated materials on our website.



Nationwide recruitment campaign to support Disability Payments

Later this year, we will start to deliver the first of our disability benefits to the people of Scotland. Child Disability Payment, which is our replacement for the UK Government's Child Disability Living Allowance for Children, will be the first of our disability benefits to launch, initially taking applications in the pilot areas of Dundee, Perth and Kinross and the Western Isles from summer 2021 ahead of being rolled out across the country from autumn 2021.

To support the delivery of the disability benefits, we are recruiting for new colleagues to join us in all 32 local authority areas in Scotland.

Opportunities to join Social Security Scotland as a Client Support Adviser will be available across the country. In addition to these nationwide opportunities, we will also be looking for Team Managers based in Glasgow and Case Managers based in either Dundee or Glasgow to join our organisation.

Initially, these new roles will support the delivery of this vital payment by helping families of children with disabilities or long term health conditions access the benefit. They will also support clients to access the Adult Disability Payment when it opens for applications in 2022.

Job adverts for the various roles can be found in local media and job sites or by visiting our website.

New way for clients to tell us when their circumstances change

On Monday 1 February, we launched a new way for some clients to tell us about us about changes to their circumstances.

With the new "game-changing" Scottish Child Payment which started on Monday 15 February - with the first eligible families due to get payments from the end of this month – and Best Start Foods, we are now delivering two benefits with recurring payments.

We want to make it as easy as possible for clients to let us know if their circumstances change. That is why we have made a new online form available so that people can advise us of changes. People can access this 24 hours a day, seven days a week through mygov.scot, meaning they can do this at the time that suits them best.

People in receipt of Best Start Foods and Scottish Child Payment will be able to use the form to tell us if:

they have changed their name
they have changed their address
they are no longer receiving a qualifying benefit
the number of children they or their partner look after has increased or decreased
their phone number or email address has changed
they or their partner is less than 24 weeks pregnant. If they are over 24 weeks, they may be eligible for Best Start Grant Pregnancy and Baby Payment and will therefore be directed to the Best Start Grant/Foods application


We would encourage clients to let us know as soon as they can about any changes to their circumstances to avoid any problems with their application or payment.

Clients need to let us know if their circumstances change to ensure they get all the money they are entitled to.

If circumstances change and clients do not tell us, they may get a payment by mistake. If this happens, they may be asked to pay the money back.

If a client doesn't tell us about their change of circumstance straight away, they may be breaking the law.

Clients can access the form at mygov.scot


Citizen's Advice Scotland launch Money Map
Citizen's Advice Scotland have launched a new tool to help people navigate money issues during this uncertain time.

The Money Map is a free, easy to use service that is designed to help people find sources of online support to enable them to:
Maximise their money – for example, accessing benefits and grants
Reduce their bills
Meet the costs of daily living
People can access this anonymous tool, which is delivered by Citizens Advice Scotland and supported by the Scottish Government, on the Money Map website.

The Scottish Government and Citizens Advice Scotland have launched a campaign to promote this. Please help to spread the word by sharing details about Money Map on your own website and social media channels.
If you follow Social Security Scotland's Twitter and Facebook accounts, you'll see what Social Security Scotland is up to and understand how we are promoting the benefits we deliver and are going to be delivering in the near future. You can also help us by retweeting and liking our posts letting us reach a wider audience.